Hot-blast oven
Heated-Air Circulating Oven
Purpose:
Used in electronic parts, motor coils, electroplating parts, voltage transformer coils of electrical
machinery, chemical & pharmaceutical factories for plastic resin, dried/candied fruit, Screen Printing,
baking paint, vacuum metalizing, baking tea ,etc... Suitable for baking, preheating and tempering.
Available customized ovens are from 50℃ to 500℃
| | |
| --- | --- |
| 10ST-45 type | 10ST-2 type |
Standard specifications
1. All electronic temperature controllers, temperature is accurate.
2. Uses specialized motor of oven in the major axis type, reduced noise.
3. Hot-blast circulation via Horizontal Multi-blade Blower Wheel
4. Uses the electronic timer that has switch off automatic function.
5. The highest available temperature is 200℃.
6. Uses iron material (inside and outside), powder baking paint for conformation
 (except ST-45 type).
7. Honeycomb heater has better cooling effect: (Usually, electric pipe heaters used in
 countries outside Taiwan.
8. Appended trays which were made by nickel plating iron cloth.
 (For other requests such as punched flats, flat-bottom trays or angled steel cloth trays
 are considered separate)
※Devices may be added to prevent overheating, PLC. Inside material can be made
 from stainless steel etc.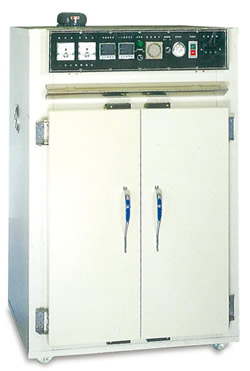 10ST-3
This aircraft type oven preheats and bakes the item.
Time control function for micro-computer (semiconductor and LED) temperature.
The precision procedure saves valuable manpower and reduces electricity usage
Standard specification
Interior size

60W x 60D x 60H (cm)

Exterior size

137Wx92Dx133H(cm)
Controller

2 microcomputer temperature controllers show temperature and time 99H59M.

Hot-blast motor

1/2HP (3 phases)

Electric

6KW 220V/380V (3 phases)

Power Control

4 - 20MA SCR non contact relay

Inside partitions

10 doses plate nickel iron network in counting

Electric features

voltmeter, ampere meter, indicator lamp,
start-up switch, etc.

Safety features

1.Overheating prevention device has outage alarm
 functions.
2.Overload protection.

Temperature

Two kinds as 600℃ and 500℃

Maximum temperature

200 degrees Centigrade.
Vacuum oven
This aircraft type is used in LED deaeration, epoxy resin ornaments industry, chemical industry , pharmaceutical, etc...
The advantages of this oven are the high vacuity, low fault rate, low maintenance cost and the window for viewing the products.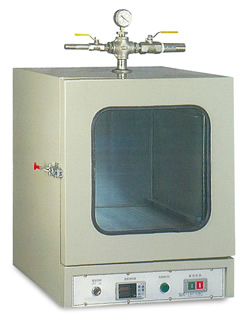 10STV-40
Standard specification
Model
STV-30
STV-40
STV-50
Interior size(cm)
30Wx30Dx30H
40Wx45Dx40H
50Wx50Dx50H
Heat controlling device
Microcomputer temperature controller
Heater
U style heating. Board heated from the outside
Relay
Relay SSR solid state relay
Vacuum pressure gauge
0 -76 vacuum pressure gauges
Window
Double layered tempered glass
Vacuum valve
A " ball type valve "
Broken vacuum valve
1/2 " ball type valves "
Vacuum washer
Silicon rubber shaping
Electric
220V single-phase 50/60HZ
Temperature
Available to 200℃
Electric current
1.2KW
2KW
3KW
  Use in normal atmospheric conditions - 200℃
  Can design according to your needs 
   1.Variable temperature control.
   2.The atmospheric temperature can reach up to 400℃.